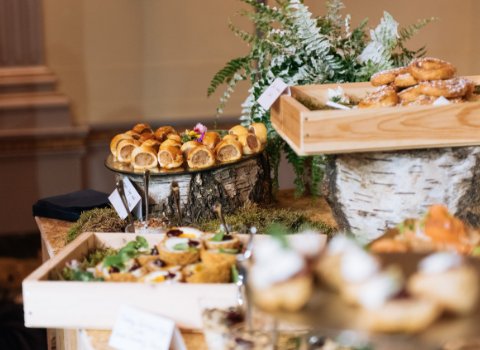 Our 2019 Food Menu
The fabulous team at Create will be providing visitors to the Show with complimentary breakfast, lunch and afternoon tea. Below is a sneak preview of some of the delectable items that will be on offer throughout the day.
BREAKFAST
Maple and granola fruit and nut pots
Mini blueberry pancakes
Cranberry and ricotta scones
Pumpkin and cream cheese cupcakes
Smoked salmon on Guinness brown bread
Ham and chestnut quiches
Maple, sage and pork sausage rolls
Turkey scotched eggs with spiced cranberry sauce
Iced cinnamon swirls
LUNCH
Carpaccio of venison, rye bread, cranberry chutney.
Honey glazed gammon, whipped mustard butter en croute
Roast rib of beef with Yorkshire pudding and horseradish snow
Turkey roulade stuffed with a chestnut and sage stuffing
Crayfish and prawn vol au vent with bloody Mary cocktail sauce
Smoked salmon on soda bread with lemon and dill sour cream
Beetroot and goats cheese terrine with crushed hazelnut
Winter vegetable filo baskets
Spiced pumpkin soup
AFTERNOON TEA
Marshmallow snow balls covered in chocolate and desiccated coconut
Wooden log of chocolate sponge filled with cinnamon cream and cranberry jam.
Chocolate Christmas trees filled with pine needle and white chocolate mousse
Pistachio macaroons filled with candied chestnut cream
Mini Christmas puddings with Christmas pudding cream and a mulled wine jelly
Ginger bread men, marzipan Christmas baubles, marzipan Christmas trees, candy canes and strawberry Santa's
Register today to secure your complimentary ticket to attend.