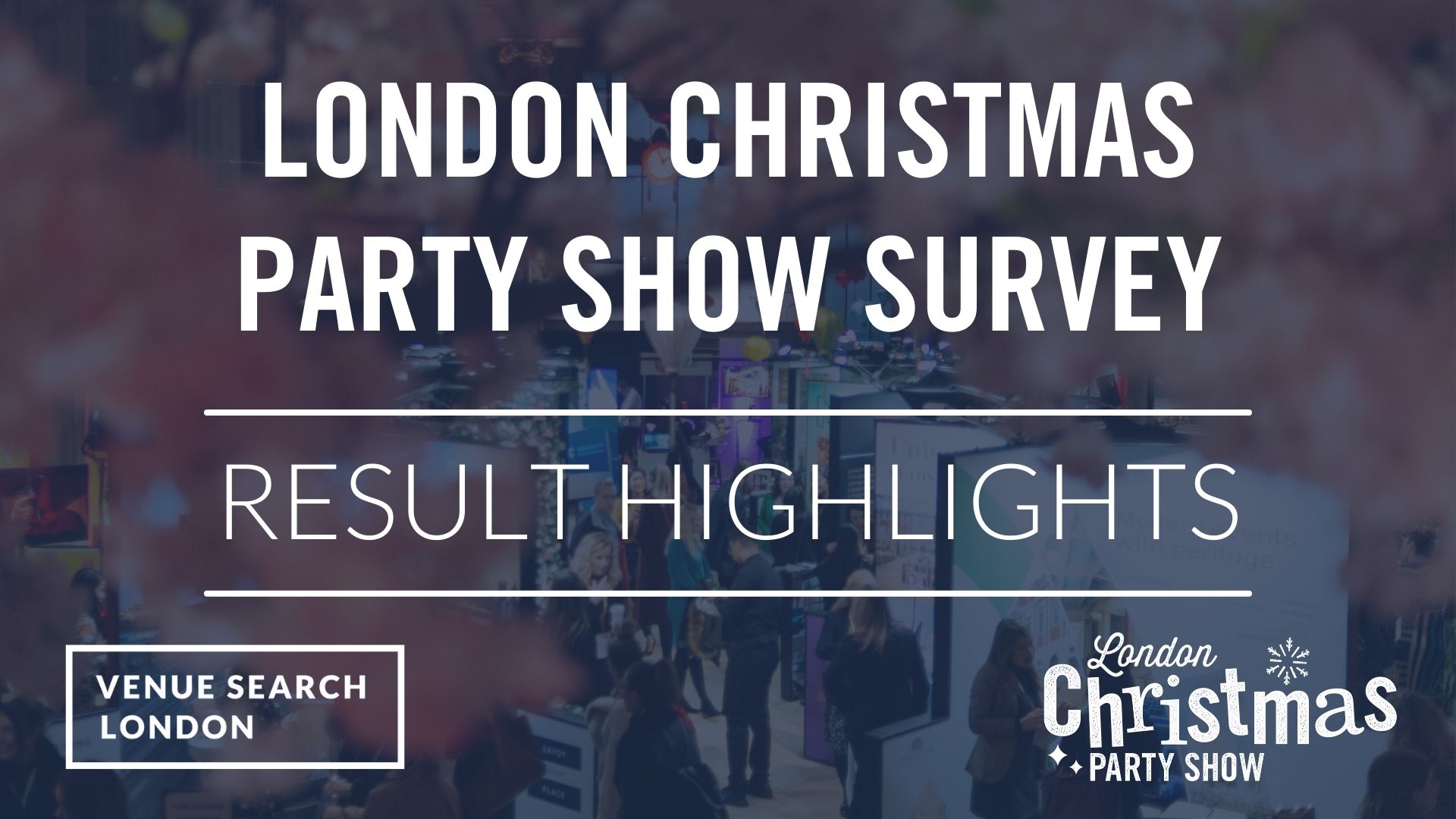 London Christmas Party Show Survey 2023 – The Results Are In!
Venue Search London and The London Christmas Party Show have just published the results of their recent survey of over 160 corporate event buyers, revealing the changing trends and plans for companies' 2023 end-of year celebrations.
The key findings of the survey are:
Most have yet to book
Only 16% of those surveyed have booked their Christmas Party, with a further 44% having approval to book now.  Most of these will be booking their parties in the next two months.
Only 2% of those surveyed are not planning to hold a party in 2023, so the overall market remains strong.
Thursdays are the new Fridays
Over half (51%) of respondents plan to hold their party on a Thursday, compared to only 21% on Friday.  This is a trend that we have observed over the past three years, indicating that "Working From Home" practices are making Fridays far less popular than in pre-COVID times.  Organisers are likely to find better value and availability on Wednesdays.
Formal dining is back on the menu
After a recent move towards less formal events with buffet and bowl food at the heart of the catering offer, the survey reveals and slight shift back towards seated lunches and dinners, with 46% of buyers requiring this option.  In addition, evening events are back in favour as the Covid concerns continue to wane, with 80% of buyers preferring traditional evening parties.
Budgets lag behind inflation
Whilst the survey continues to reveal a wide variety of budgets, the average planned spend per head remains unchanged from 2022 at £107 + VAT per guest.  Given that event costs are rising at around 8% per annum, this is likely to create challenges for event buyers, who will either need to seek increased budgets, or to reduce the content of their events (possibly looking at less popular dates or venues).
If you are seeking inspiration for your 2023 Christmas Party, attending The London Christmas Party Show on Wednesday July 19th at Haberdashers' Hall, EC1, will give you the opportunity to meet over 150 of the best venues and event suppliers. You can register here for your complimentary ticket.
If you are unable to attend or need advice on the best London venues for your Christmas Party or and other upcoming event, then the team of free venue finders at Venue Search London are there to help.