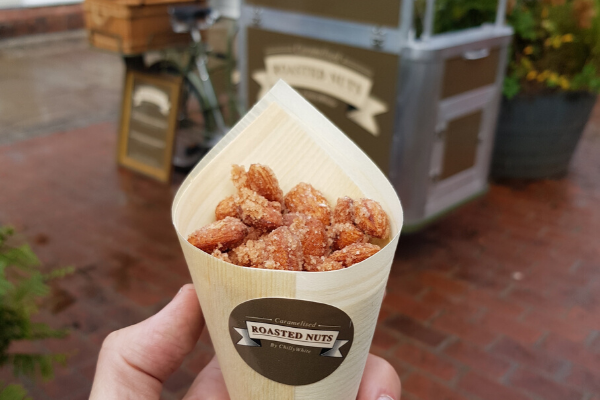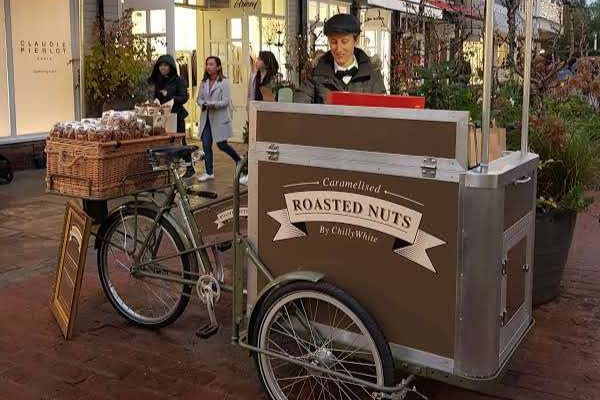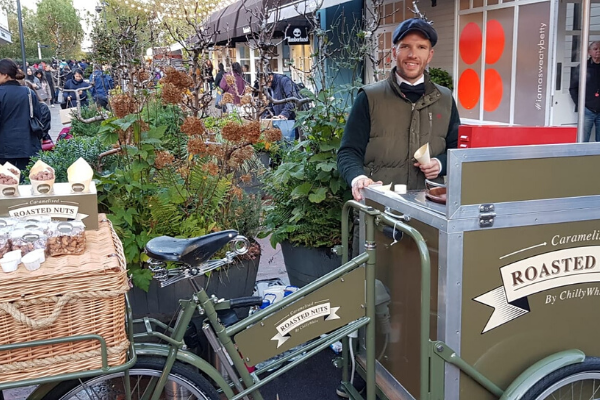 Introducing: Caramelised Roasted Nuts Tricycle by Chilly White
The team at Chilly White are thinking ahead to Christmas with their newest tricycle to-date which serves up freshly Caramelised Roasted Nuts.
The tricycle has been designed specifically with outdoor events in mind, with its hand-made weather proof canopy and sleek stainless design – perfect for social distanced festive celebrations. The tricycle is also capable of accessing larger indoor venues, as the canopy can be easily removed, swapped out with a parasol or operated without any covering at all.
The set up requires minimal space, and serves tasty candied nuts that include maple & cinnamon almonds, honey & soy cashews and their best seller sea salted caramel pecans, which are served in bamboo cones or compostable packets for a take home option.
Chilly White offer options of fully customising the tricycle, cone holders, bamboo cones and packaging.
The Chilly White team also dress to impress in their smart attire that includes herringbone waistcoat, bow-tie and peaky blinders style cap – giving that 1920's feel to your next event.
COVID-19 compliant: The Chilly White team have their own washable facemasks with removable filters, ensuring staff and guests are kept safe as possible. They are also offering bespoke social distancing signs and hygiene stations in addition to their food and drink services.
Get in contact at www.chillywhite.co.uk or email [email protected] to request further information.